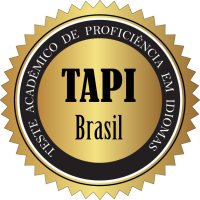 TAPIBRASIL Language Proficiency Test is applied to all candidates and/or Master's or Doctoral students who need to certify their knowledge of English, Spanish, French or Portuguese in their different graduate departments.
4 independent modules
  * Grammar
  * Reading Comprehension
  * Writing
  * Oral Comprehension
Digital Certificate in 3, 7, or 12 days after the test date.
The only proficiency test in Brazil with the possibility of grading review.
Values, in reais (R$), are available in all Test Application Centers.
Help:
* Cidade do Centro Aplicador: Rio de Janeiro
* E-mail do Centro Aplicador: tapi@bobidiomas.com.br

Since 1986, we have aimed to meet your needs: learning a foreign language, improving your conversational skills, preparing for a job interview or for an international congress, translating or proofreading your article, taking a proficiency test or preparing for one.